I'm the first to readily admit to the world that I am not a morning person. In fact, my morning routine mostly consists of shutting off 4 of my 5 alarms, rolling out of bed at the last possible minute, getting dressed, brushing my teeth, and zombie-walking out the door. Forget waking up 5 minutes earlier to make myself some scrambled eggs or a toaster strudel. But there's also no way that I can make it from wake-up time (06:30) to lunchtime (11:30) without something to eat! A while ago, I started buying frozen breakfast burritos that I could microwave and eat on the go, or stash in the fridge at work and eat while catching up on morning emails. But I finally started to realize just how expensive that was becoming – sometimes, one burrito is as much as $3! That isn't so bad when buying one at a time, but when you're stocking up, it adds up quick!
That's why I started researching how to make my own burritos, and after experimenting with several flavors, I've finally found one worthy of a blog post. This recipe includes plenty of protein to kick start your day, and packs a punch in the flavor department, too. Plus, this recipe makes about 30 burritos, so you won't have to worry about breakfast for a while! And on top of all that, they're only about $1.12 per burrito! A perfect recipe for thrifty cooks everywhere!
To begin, I suggest completing all the prep work first. On a large cutting board, dice up the sausage. I slice them in half lengthwise, then into quarters lengthwise, and then into bite sized pieces.
Place the sausage in a large bowl and set aside.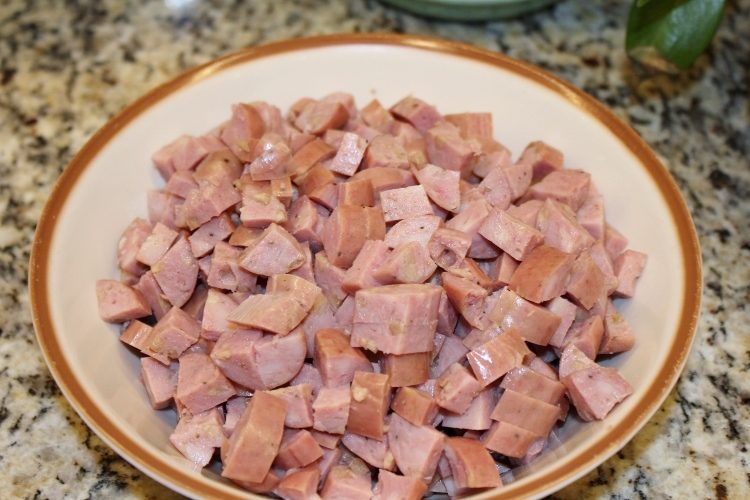 Also cut the onions and bell peppers. Hold off on dicing the potatoes until the eggs are done, since they will brown easily once cut.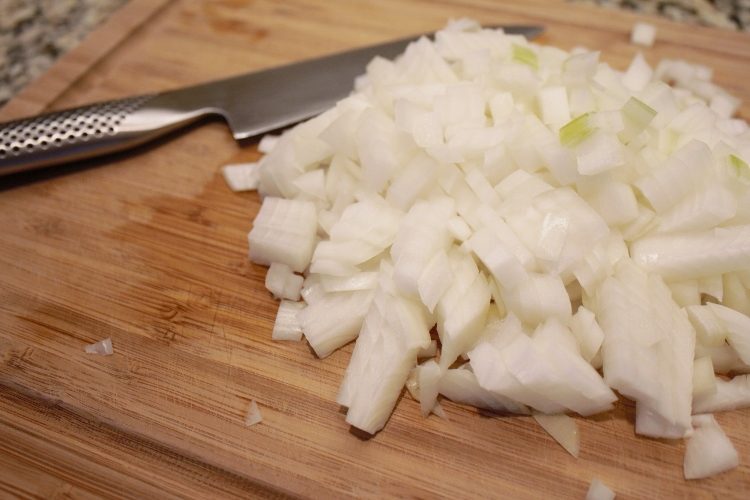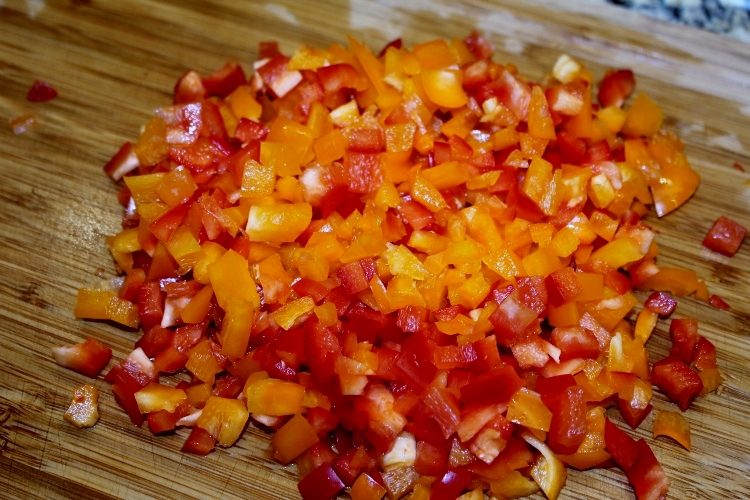 In a large (gigantic, even) skillet, begin melting the butter on low heat. Add all 18 eggs, and sprinkle with salt and pepper.
Stir to break the yolks and let eggs cook on low heat until completely scrambled, being sure to stir and scrape the bottom often. While the eggs are cooking you can begin dicing the potatoes. If you are using Yukon Gold as specified in the recipe, there's no need to peel!
Once the eggs are fully cooked, remove them to a large bowl and allow them to cool.
Wipe the skillet down (hopefully yours is non-stick like mine!) with a paper towel. Add the olive oil and onion to the skillet and sauté on medium heat until the onions are soft and lightly browned.
This should take about 7-10 minutes. If you haven't finished cutting the potatoes, now is a great time!
After the onions are softened and beginning to brown, add the potatoes and bell peppers and stir well.
Sauté, covered, for about 15 minutes or until the potatoes have softened slightly – we don't want them to be totally mushy! Make sure to stir the skillet to achieve even cooking. After the potatoes are done (taste test to be sure!), add in the sausage and stir again to incorporate. Heat until the sausage is just warmed.
Remove the pan from the heat and dump the eggs and cheese into the skillet. Stir well!
Allow the mixture to cool completely (at least an hour) before assembling burritos. Sometimes I will store the whole pan in the fridge overnight if I don't feel like assembling the burritos right away.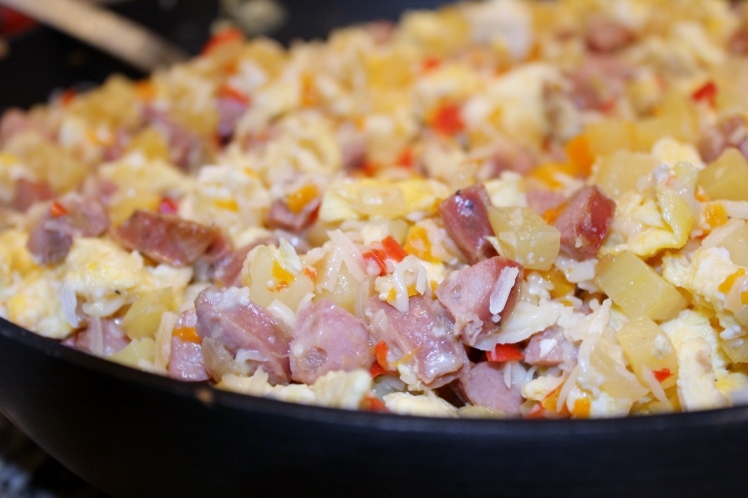 To assemble the burritos, place a square of cling film on a flat surface. Place a tortilla on top of the film, and spoon a large helping into the center of the burrito. Fold both sides in, then roll. Use the cling film to wrap the burrito. Freeze until ready to eat.
To enjoy, unwrap the burrito from cling film and wrap in a damp paper towel. Microwave for a minute, then flip and microwave another 30 seconds. You may need to adjust this time depending on your microwave – for example, this time is perfect for the microwave at work, but my home microwave requires about a minute on each side!
Enjoy, and relax knowing that you've got breakfast covered for the next month!
Chicken Apple Sausage Breakfast Burritos
This large batch recipe covers your busy breakfasts for a month!
Author:
Erica @ hohmcooking.com
Ingredients
18 eggs
3 Tablespoons unsalted butter
1 teaspoon salt
1 teaspoon pepper
2 Tablespoons olive oil
2 (12 oz) packages Aidell's Chicken & Apple Sausage
4 (8 count) packages Mission Soft Taco Whole Wheat Tortillas
1.8 - 2 pounds Yukon Gold potatoes
2 bell peppers
1 medium yellow onion
1 (8 oz) bag shredded Monterey Jack cheese
Instructions
Begin by dicing the peppers, onion and sausage. Place sausage in a large bowl and set aside
In a large skillet, melt butter, then add eggs, salt and pepper. Cook on medium-low until eggs are cooked through, make sure they aren't runny! While the eggs are cooking, begin dicing the potatoes
Place cooked eggs in a large bowl and set aside to cool. Wipe the skillet with a paper towel, then add olive oil and onion and sauté for 7-10 minutes or until onions are lightly browned and soft. If you haven't already, finish dicing the potatoes while the onions are cooking
Add peppers and potatoes to the skillet – sauté for 15 minutes or until potatoes are soft
Add sausage and mix well, heating until just warmed
Remove skillet from heat and add cheese and eggs. Mix well to ensure proper distribution
Allow mixture to cool completely before assembling burritos. Mixture can also be kept in the refrigerator for a day or two before assembly
To assemble burritos, place a 12" square of saran wrap on a flat surface. Place a tortilla on the saran wrap and spoon a large portion of the burrito mixture into the center of the tortilla. Fold both the left and the right sides in towards the middle of the tortilla, then roll the burrito. Wrap each burrito using the plastic wrap, and freeze for up to 2 months.
To enjoy, unwrap burrito and wrap in a damp paper towel. Microwave for 1 minute, then flip and microwave another 30 seconds. You may need to adjust this time depending on the power of your microwave.
Save
Save
Save
Save
Save
Save
Save
Save
Save
Save
Save