It's fast approaching beach season again! And that means late nights at the Boathouse with all my favorite staff, and lots of new baking projects to keep them all well fed!
The Boathouse owners also own another beach-famous restaurant, The Cottage Café. Located right across the street from the Boathouse, I've been enjoying meals there for as long as I can remember. And the highlight of every visit to "The Cottage," as we call it, are their warm mini muffins served up with softened butter. Corn muffins, cranberry muffins, and coconut muffins have graced their bread baskets for many years, and I often bargain with my Boathouse bartenders to smuggle me an order or two over to the bar as a late night snack.
I've been working on the staff to give me their recipes for two years now, and although I haven't been able to coax it from them just yet, I have been able to find a pretty suitable substitute. I found this recipe for coconut mini muffins on Pinterest, via The Breakfast Drama Queen blog. They're easy to make and perfect as a dessert, breakfast or afternoon snack!
Start by preheating the oven to 350˚F. Spray mini muffin tins with cooking spray. This recipe makes approximately 30 mini muffins, so you will need more than one tray or to be prepared to bake in batches!
In a large bowl or with a stand mixer, beat together the eggs, canola oil and brown sugar until smooth. The mixture will be dark in color.
Add the yogurt, coconut milk (I use unsweetened, because I also use it as coffee creamer, but if you would like a sweeter muffin go ahead and use sweetened coconut milk), and vanilla extract. The mixture will be very thin.
Add the flour, baking powder, baking soda and salt and mix well, making sure to get all the lumps of flour out of the batter.
Add the shredded coconut and mix well to incorporate.
Use a tablespoon, cookie scoop or just pour the batter carefully into each muffin tin. Fill each opening about 2/3 full. Sprinkle with extra coconut, then bake for 14-16 minutes, or until a toothpick inserted into the center of each muffin comes back clean.
Allow muffins to cool in pan for 10-15 minutes, then remove to wire rack to finish cooling completely. Enjoy as a bite sized afternoon snack, a satisfying dessert, or even an on-the-go breakfast!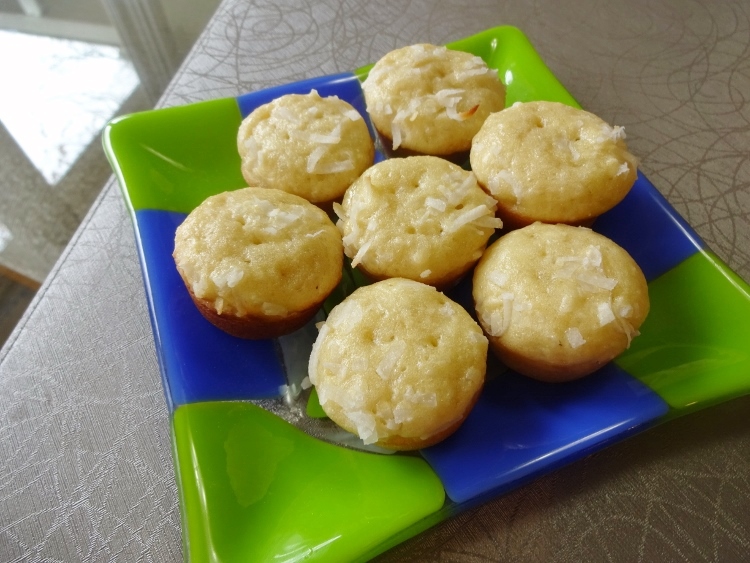 Coconut Mini Muffins
These mini muffins are easy to make and store well, so make a batch to enjoy anytime!
Author:
Claudia @ breakfastdramaqueen.com
Serves:
2.5 dozen muffins
Ingredients
2 eggs
2 Tablespoons canola oil
½ cup packed brown sugar
½ cup plain Greek yogurt
½ cup unsweetened coconut milk
2 teaspoon vanilla extract
1⅓ cup flour
1 teaspoon baking powder
¼ teaspoon baking soda
½ teaspoon salt
1 cup sweetened shredded coconut + ¼ cup for topping
Instructions
Preheat oven to 350˚F and spray mini muffin tins with cooking spray
Using a hand mixer or stand mixer, beat together eggs, canola oil and brown sugar until smooth
Add in yogurt, coconut milk and vanilla extract. Mix again until smooth – the mixture will be a very thin consistency
Add flour, baking powder, baking soda, and salt. Mix until well incorporated and there are no more lumps in the batter
Add coconut and mix until well combined
Using a tablespoon or cookie scoop, fill each muffin tin ⅔ full. Sprinkle each with extra coconut
Bake for 14-16 minutes or until a toothpick inserted into the muffin centers comes back clean
Let cool in pan for 10-15 minutes, then transfer muffins to a wire rack to cool completely
Enjoy!
Save
Save
Save
Save