Sometimes, I'm really thankful that I'm not the only baker at work. Especially around the holidays when we have all sorts of big potlucks and events, it's good to know I'm not the only one bringing cookies or a cake to feed all 250 of our plant employees.
Our other star baker at work often makes oatmeal cookies packed with different combinations of spices and chewy morsels. Last year, she made a butterscotch cookie that I fell in love with. I quickly did some online research (thank-you, Pinterest!) and came up with these Caramel Oatmeal Cookies from Six Sisters' Stuff. [EDIT 2/16/21: The original recipe has been removed from the Six Sisters' Stuff website, and I have not been able to relocate it. If you happen to find it, let me know so I can add back the proper credit!] While I originally intended to make them as per the original recipe, with Kraft Caramel bits folded into chewy oatmeal batter, I accidentally grabbed Butterscotch morsels at the grocery store! Not one to waste food, I decided to use them in place of the caramel, and the rest is baking history! These cookies have quickly become a staple of my baking repertoire, and I think they would rival even my coworker's butterscotch cookies!
To make these chewy delights, first make sure you've allotted yourself adequate prep time. I've called for these cookies to be chilled at least an hour before baking, so that they hold their shape better when baked. If you prefer, you can refrigerate them for up to a week prior to baking! Perfect for party planning!
Grab a small bowl and mix together the dry ingredients – flour, baking soda, cinnamon and salt – then set it aside. In a large bowl, or with your stand mixer, cream the butter and sugars. I start on a low speed and then gradually increase to high, beating until the mixture is light and fluffy (this will take about 2-3 minutes, depending on the power of your mixer).
Next, add the eggs and vanilla and mix well. Be sure to scrape down the sides of your bowl at least once to make sure the mixture is evenly incorporated.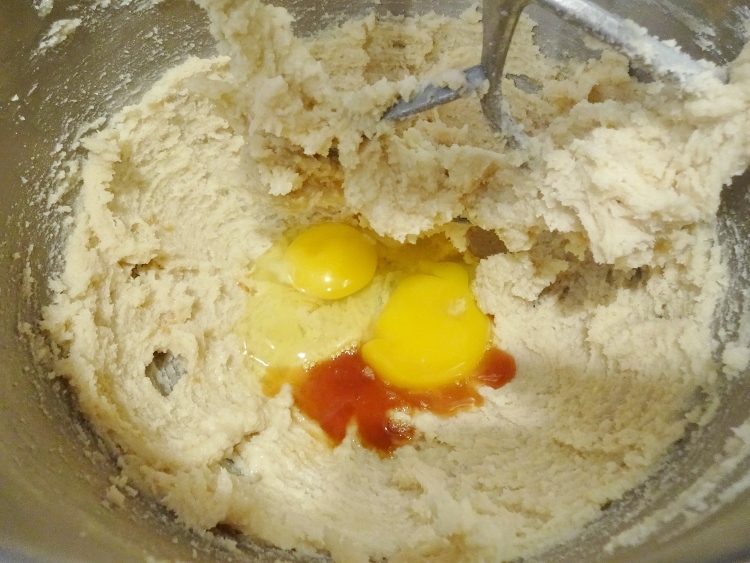 Add in the flour mixture gradually, mixing until completely blended. Make sure not to increase the mixer speed too fast, or you will wind up with flour everywhere! Trust me on this one, I know from experience!
Add the oatmeal and the package of butterscotch morsels and mix well. If you're using a large stand mixer, this can be done on a low speed. If you're using a hand mixer, though, you may need to fold these in by hand because the dough is pretty thick.
Once completely mixed, line a large tray or plate with wax or parchment paper. Using a cookie scoop or your hands, form 1" balls of dough and place them on the plate. If you need to stack cookies in more than one layer, be sure to add another piece of parchment or wax paper to prevent sticking.
Place cookie dough balls into the fridge for at least one hour, or up to a week. When you are ready to bake, preheat the oven to 350˚ F and line baking trays with parchment paper. I don't recommend silpats for these cookies as the cooling process will take longer.
Bake for 10-12 minutes – the cookies will be puffy and light in color when you remove them from the oven. Allow them to rest on the baking sheets for at least 5-10 minutes before removing them (including the parchment) to a wire rack to finish cooling. These cookies are extremely gooey and need the extra support from the parchment paper to prevent them from falling through the holes in the wire racks!
Once cooled completely, the cookies are much sturdier (they will have flattened out after cooling) and you can store them in an air tight container for up to a week. But I don't think you'll have to worry – no way they'll last that long!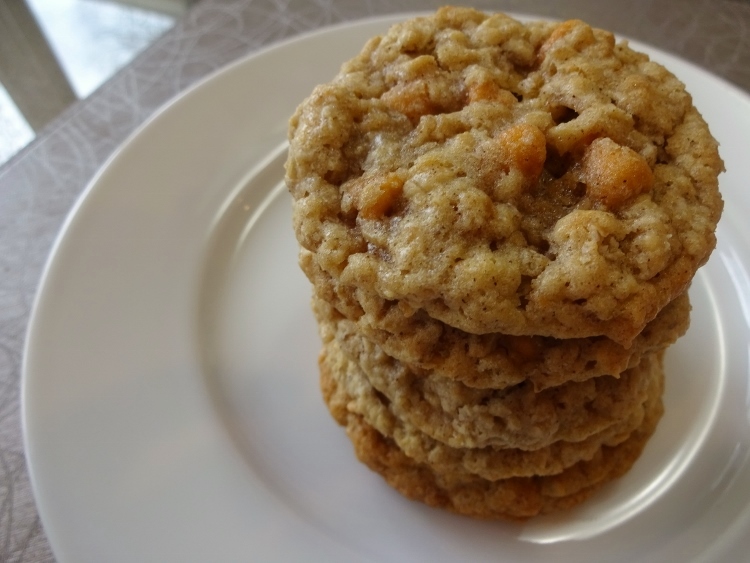 Butterscotch Oatmeal Cookies
Gooey butterscotch oatmeal cookies are perfect for parties, and you can make the dough up to a week in advance!
Author:
Elyse @ sixsistersstuff.com; modified by Erica @ hohmcooking.com
Serves:
4-5 dozen cookies
Ingredients
1 ½ cup flour
1 teaspoon baking soda
1 teaspoon cinnamon
1 teaspoon salt
1 cup (2 sticks) unsalted butter, softened
¾ cup sugar
¾ cup brown sugar, packed
2 eggs
1 teaspoon vanilla extract
3 cup old fashioned oats
1 (11 oz) package Nestle Toll House Butterscotch Morsels
Instructions
In a small bowl, whisk together the flour, baking soda, cinnamon and salt, then set aside
In a large bowl or a stand mixer, cream together butter, sugar and brown sugar. Beat on high for 2-3 minutes or until lightened in color and fluffy
Add the eggs and vanilla, and beat again until well incorporated. Scrape down the sides of the bowl with a spatula if necessary
Add flour mixture and beat in slowly until well combined
Add the oats and butterscotch morsels, and mix until well incorporated
Line a large plate or tray with wax or parchment paper, and use a medium cookie scoop to portion the dough into 1" balls. Place on lined tray and refrigerate for at least one hour, or up to three days.
When ready to bake, preheat oven to 350˚ F and line baking sheets with parchment paper.
Bake for 10-12 minutes. Allow to cool on baking sheets for 5 minutes before transferring cookies and parchment paper to a wire rack to cool completely. Cool for at least 30 minutes before attempting to move, they will be too gooey otherwise and will completely fall apart!
Save
Save
Save
Save