What wild times we're living in right now. It's not often that we're all fully aware of living through a crisis that will surely be written into the history books. This is week six of working from home for both Todd and I. On week one, I said to myself "I finally have some time to work on those blog posts that keep piling up!" Well, we see how well that's gone. But I'm writing one now, and that's what matters!
Just as an FYI, I'm not intending this or any of the next few posts to be "quarantine specific" recipes. Most of them are recipes I've had in my backlog for months (possibly even a year in some cases) that I'm finally finding the time to put to paper. But, hopefully your grocery stores have restocked enough to allow you to cook along!
I made this recipe for the first time at a bridal shower I hosted a few years ago. It's become a summertime favorite in our house. The original recipe is from the Cake-N-Knife blog, I've just made a few tweaks to fit my taste. I hope you enjoy!
PS: I just have to say that I'm kind of embarrassed of the photo quality in this recipe album. Just goes to show how much my skills have improved since I started dating a photo hobbyist (and since he started taking the pictures for me!) I'm working on getting all the PTE (Pre-Todd Era) recipes on the blog so we can move forward to some more well composed photo shoots!
Slow Cooker Hawaiian BBQ Sliders
These are the perfect slow cooker sliders for your next summer potluck!
Author:
Adapted from Meghan at Cake-n-Knife
Ingredients
Pulled Pork
3-4 lbs pork shoulder
1 large yellow onion
½ cup pineapple juice
½ Tbsp cayenne pepper
1 Tbsp salt
1 Tbsp pepper
1 Tbsp paprika
1 Tbsp garlic powder
1 T brown sugar
24 King's Hawaiian slider rolls
⅓ cup Sweet Baby Ray's Hawaiian BBQ Sauce
Mango Coleslaw
1 16 oz package coleslaw mix
1 mango
juice of 1 lime
½ tsp salt
½ tsp pepper
3 Tbsp mayonnaise
1 ½ tsp Sriracha, or to taste (optional)
Instructions
For the Pork
Trim and dice the pork shoulder into 2" chunks, and roughly dice the onion.
In your slow cooker, combine the pork shoulder chunks, diced onion, pineapple juice, spices and brown sugar. Stir to combine. Set to high, and cook for 4-6 hours or until the meat is falling apart. While pork is cooking, make the coleslaw.
When the meat is done, use a slotted spoon to remove the pork from the pot and place on a cutting board. Using two forks, shred the meat.
Drain most of the remaining liquid from the crock pot, reserving about 1 cup.
Return the pork to the crock pot and add in the barbeque sauce. Stir to combine.
Keep pulled pork in the crock pot on the "warm" setting, or remove to a large bowl for serving.
Assemble sliders by placing a scoop of pork on the bottom bun, then top with coleslaw. Add extra BBQ sauce if desired, and enjoy!
For the Coleslaw
Peel the mango, slice thin, then dice.
To a large bowl, add all ingredients and stir to combine. Cover and place in fridge until ready to serve.
Notes
1. Much of this dish can be prepared 2-3 days ahead of time. To do so, combine all the pulled pork ingredients (less the pineapple juice and barbeque sauce) in a large Ziplock bag and place in the fridge until the morning of the day you plan to cook. Then it's simply a matter of dumping the bag straight into the crock pot and adding pineapple juice – no cleanup required!
2. The coleslaw can also be prepped a few days in advance. In a large Tupperware container with a tight fitting lid, combine all the ingredients except for the mango. Leave the coleslaw in the fridge, and on the day you plan to serve, dice the mango and add it to the slaw.
First, assemble all the pulled pork ingredients.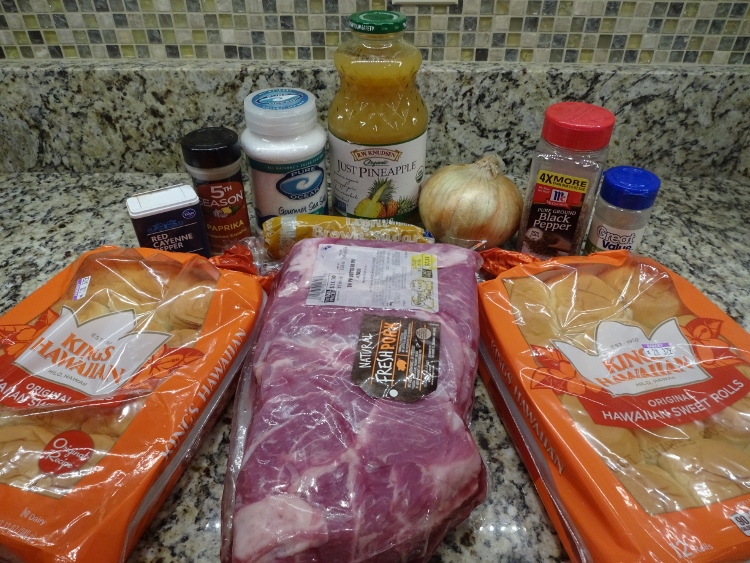 Dice the pork into 2″ chunks – they don't have to be perfect!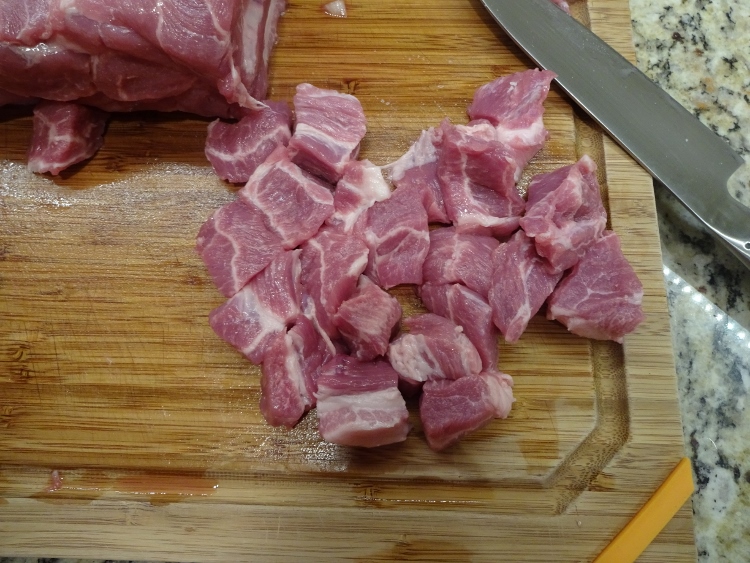 For making ahead of time:
Combine all dry ingredients in a large ziplock bag. Add pork and onion and move to fridge until ready to use.
For immediate use:
Place the pork chunks into the crockpot, then sprinkle the dry ingredients over top. Pour in pineapple juice and stir to combine. Turn heat to high and cook for 4-6 hours or until the pork is fall-apart tender.
After about 6 hours, the mixture should look like this! Use a slotted spoon to remove the pork from the crock pot, and drain all but about 1 cup of liquid.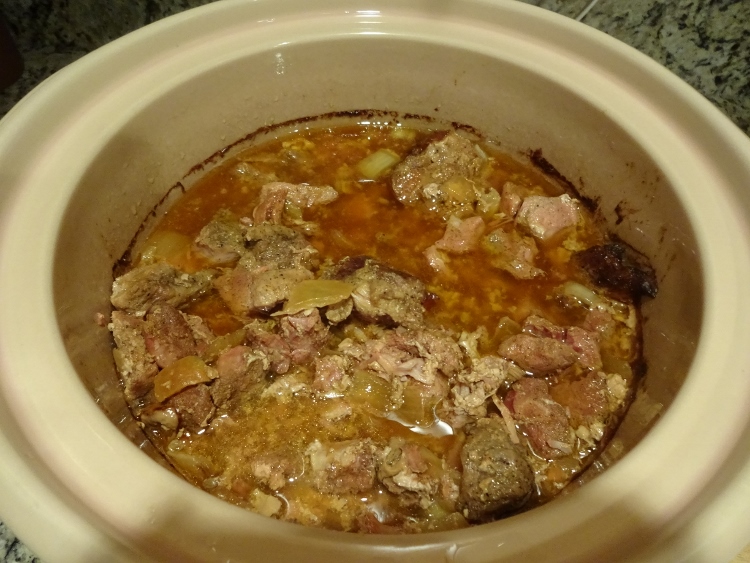 Use two forks to shred the pork, then return it to the crock pot. Add the Hawiian BBQ sauce and stir to combine. Serve directly from the crock pot or move to a large bowl for serving.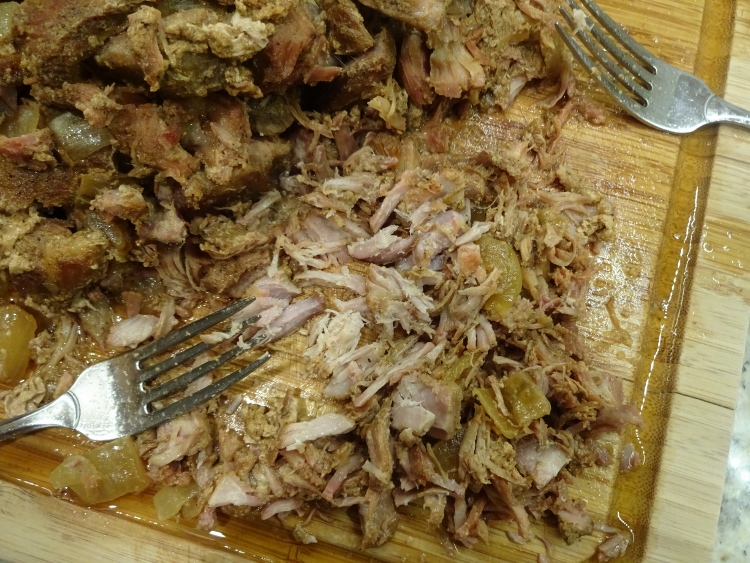 For the coleslaw, combine all ingredients in a large bowl and keep in the fridge until you're ready to serve.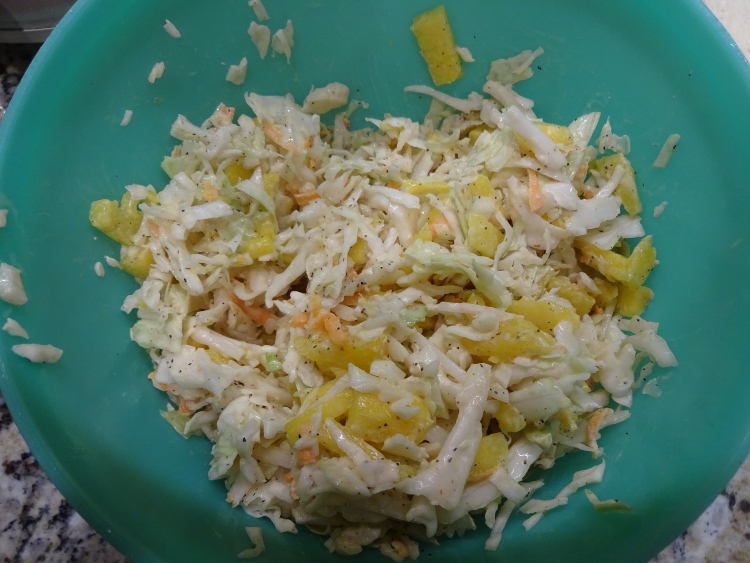 Assemble and enjoy! Feel free to add a bit more barbecue sauce to your slider, if you want!