I have good news! My life of having a boyfriend has many untold benefits. And one of them is my blog photography! Todd has become a bit of a photography buff, and recently bought himself a new Canon camera. He's been eager to try it out on lots of different subjects, including my recipes! I still have some old recipes to share that I shot with my cheap point-and-shoot camera last year, but I wanted to introduce at least one recipe with Todd's fancy camera work on full display. This colorful party salad is the perfect introduction for that!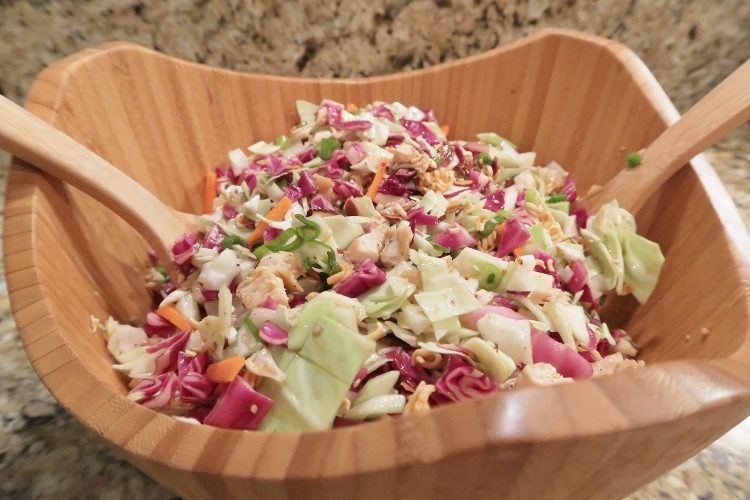 A few notes on this salad: while I love this recipe and make it every chance I get, I forewarn you that this makes a MASSIVE amount of food. I estimate that, as written, it is over 20 servings. It is definitely enough to fill both of my largest mixing bowls. So, I have a few suggestions for how to deal with this:
Option: only cut half of the red and green cabbages. I cut each whole cabbage because there are not many recipes in my repertoire that use these cabbages, and I would rather use them in this recipe than let them rot in my vegetable drawer before getting tossed weeks later. If you have a use for the leftover cabbage halves, I recommend this method.
Suggestion: Keep ramen, almonds, and dressing separate from the salad and add as needed. This is recommended no matter what amount of cabbage you dice up. The ramen in this salad (my favorite part!) will get soggy quickly after adding the dressing. To prevent this, I only add the ramen and dressing right before serving. As I mentioned above, this salad takes up my two largest mixing bowls. If I'm attending a large party, I may bring both bowls, but will only dress one of the two. That way, the second half remains fresh and the ramen remains crispy, whether it is needed later in the evening, or at home a few days later.
Option: Buy and roast extra ramen. I find sometimes that I am a little heavy handed with the ramen when dressing this salad (especially if I only dress half at a time). I keep extra ramen bricks on hand to roast up if I run out of toppings for this salad. This also comes in handy if you bring home already-dressed leftovers, so that you can add new crunch to the mix!
Suggestion: Make ahead. Each part of this recipe (the toasted ramen, the salad, and the dressing) can be made ahead of time and kept separately until ready to use. Keep the dressing in a mason jar, so that it is easily re-shaken when needed. Keep the ramen in a sealed Ziploc or Tupperware, and keep the salad in a covered bowl in the fridge.
Asian Ramen Salad with Chicken
When I found this crunchy ramen salad recipe on the Cooking Classy blog, I knew I'd found my favorite-ever version of this classic potluck dish.
Author:
Jaclyn @ Cooking Classy
Recipe type:
Appetizer or Main
Ingredients
Salad
3(3 oz) packages dry ramen (any flavor)
1 cup sliced almonds
2 Tbsp extra virgin olive oil
1 lb boneless thin sliced chicken breasts
1 small head green cabbage
1 small head red cabbage
1 large carrot
4 green onions
2 Tbsp toasted sesame seeds
Dressing
½ cup canola oil
¼ cup + 2 Tbsp apple cider vinegar
½ cup sugar
1 ½ Tbsp soy sauce
½ tsp pepper
¼ tsp garlic powder
¼ tsp onion powder
¼ tsp dried ginger
¼ tsp salt
Instructions
Preheat oven to 400° F. On a large baking sheet, crumble the ramen into bite-sized chunks, and spread evenly. Add the sliced almonds to the sheet and arrange in an even layer.
Bake ramen and almonds until golden, about 8-10 minutes, flipping once halfway through (See Note 1). Set aside to cool completely.
Heat olive oil in a large skillet over medium heat. Season chicken with salt and pepper, add to skillet, and cook completely (See Note 2). Once done, remove from pan and set aside to cool completely.
Slice the cabbages into bite-sized pieces and dice the carrot into matchsticks. Chop the green onions (greens and whites). Add to a large bowl (or split evenly between two large bowls).
To make the dressing, add all ingredients to a container with a tight-fitting lid. Shake well to mix, and reserve until ready to serve.
Dice the chicken into bite-sized pieces. Add to the bowl with cabbage and carrots. Add sesame seeds.
To assemble, toss the salad with toasted ramen, almonds, and dressing (shake well before adding). See notes above for suggestions on how to best preserve this dish for longer enjoyment.
Notes
1. Keep a watchful eye as the ramen bakes. It can transition from pale to burnt in just a few minutes, and every oven cooks differently! My electric oven toasts ramen in about 12 minutes, while my parent's gas range accomplishes this in less than 8 minutes.

2. Chicken cooking times vary widely, which is why I have not listed them here. For the thin-sliced breasts I recommend in the ingredients list, 5-7 minutes per side should suffice. For larger breasts, the cooking time can easily double. If you are using large breasts, I suggest butterflying them before cooking, to reduce cooking time. As always, test for doneness with a kitchen thermometer if you're unsure. Chicken's safe temperature is 165° F.
As per usual, here are the step-by-step photo instructions:
First, Prep the ramen and almonds by crumbling the ramen bricks into small peices, then spreading evenly on a large baking sheet, sprinkling in the almonds. Toast in a 400° F preheated oven for about 10 minutes, flipping once halfway through. Both the ramen and the almonds should turn a golden brown color. Remove from oven and set aside to cool.
Season chicken with salt and pepper, and cook fully in a large skillet. Once cooked, set aside to cool. After chicken has cooled completely, dice into bite-sized pieces.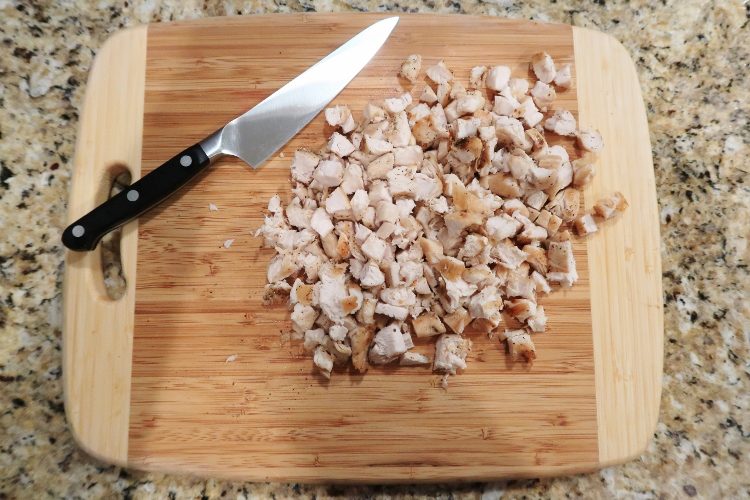 Dice the cabbages, carrots, and green onions and add to a large bowl (or two large bowls!)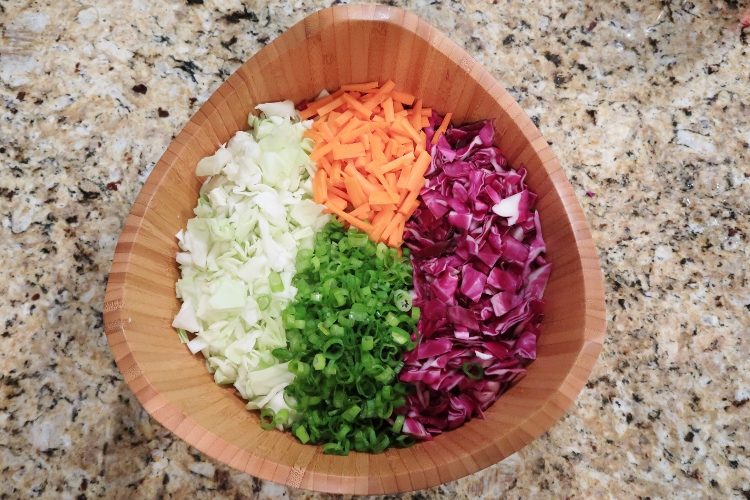 For the dressing, add all ingredients to a container with a tight fitting lid, like a mason jar. Shake well to combine.
To serve the salad, mix the chicken, ramen, almonds, sesame seeds, and dressing into the bowl with the cabbage and carrots. Toss well and serve immediately.
To preserve this salad better, store the ramen, almonds, and dressing separately. Only mix in just before serving.
Recipe Credit: Jaclyn at Cooking Classy, who adapted her recipe from Betty Crocker.